OMG, the only thing that I watch on tv is BASKETBALL because my boyfriend is a tv HOG and that's all he watches. The Lakers lost again today and he is SOOOOOOOOO UNBELIEVABLY PISSED! I don't understand! I mean it's just a game right? But then again, how could the Lakers freaking lose? They were up like 20 points in the 2nd quarter and up 15 in the 3rd quarter... Urgh, what am I saying? I hate basketball anyway! BUT HE JUST WON'T STOP TALKING ABOUT IT! It's driving me insane!! This is probably how he feels when I talk about my makeup lol. GAAAH. He is still speaking as I type!

Ugh.

Anyway, here's a FOTD from a few days ago. Sorry I can't keep up with these on the days that I actually do them! lol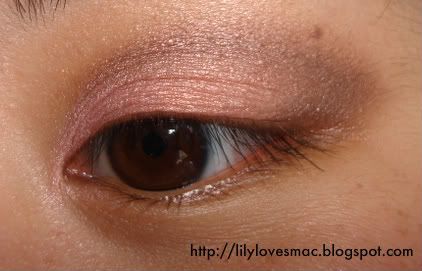 Face
L'oreal Bare Naturale in Nude Beige
MAC Light Flush MSF

Eyes
Inner lid: MAC Da Bling e/s
Mid lid: MAC Cranberry e/s
Outer V & Crease: MAC Satin Taupe e/s

Lips
NYX Harmonica l/s
NYX French Kiss l/g

Last but not least, I just wanted to say FUCK YOU GAS PRICES!!!! I HATE YOU!! Gas is $4.55 in my doomed city and it just keeps going UP!!!!!!! I HATE YOU STUPID PRESIDENT BUSH. YOU MONKEY!