You know, I wasn't too impressed by the Naughty Nauticals collection until I saw most of the products in person. The eye shadows definitely didn't appeal to me as much as I thought they would have though. I knew I wanted to get submarine before I went, but I didn't like the finish. It's almost a kind of matte finish. I didn't really like it, plus it was very reminiscent of freshwater. The colors come quite close. Anyway, I was also set on the ensign lipglass, but again, it was a let down. I got hey, sailor instead.

BUT, besides all the negative, I did manage to get some awesome stuff!! LET ME SAY that the mutiny pigment is BEAUTIFUL!!! I never wear blue or hardly ever, but it looks AMAZING!!!!!! MAC doesn't make many blues like this. It's shimmery and very light. I LOVE IT! I also got the stowaway quad. The colors look very bland in the palette, but once you swoop them up, the color pay off is really unexpected. The colors go SO well together. The star in this palette I would have to say is crest the wave (the yellow one). It's a soft baby yellow, but it's very vibrant and not dull at all. I pretty much got the palette for this color (and since I don't have any of the other colors, well why not hehe). I also got pandamonium (which is a re-promote) and the ahoy, there! lipstick. It's a pretty light sheer pink which is great for me.

I'll post some FOTDS in a few days. I'm going to get my wisdom teeth out in half an hour!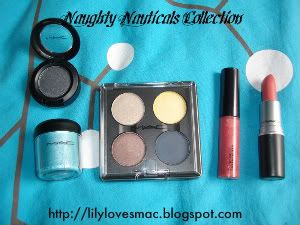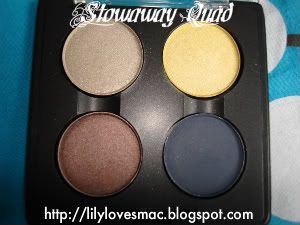 from left to right: awash, crest the wave, satin taupe, sea-cadet