So I got my makeover today!! I actually got there really early so I wanted to cancel the appointment and just play around with the makeup, but I guess the MA didn't understand and just bumped up my time slot (or maybe she just wanted to make sure I bought stuff haha) Anyway, I didn't really like my makeover... It's funny because right before the makeover, I was asking her about some recommendations for really light pink blush that wouldn't be orangey on my skin, right? And what do you know, for my makeover she puts Evening Aura (an orangey gold eyeshadow) on me and Spaced Out (an orangey blush) from the new Neo Sci Fi collection... She also put the solar bits on my cheek, but didn't blend them out for some reason. She just tapped some on my cheek lol.

So, some things that I did get from the collection are the Microfine Lip Refinisher, Sci-Fi-Delity l/s, Pleasureseeker l/s, Soft & Slow l/g, and Pink Grapefruit l/g. I also got Pinch o Peach blush, a bulk of MAC wipes, and 3 B2M lipsticks in Sweetie, Frou, and Pervette. Once I got home, I sporadically cut my credit card in half. (?!) I KNOW! I've decided that if I don't have it to use then I won't keep spending... But of course, then along comes my brother and says, "What if you have an emergency and you need it?" And now I regret cutting my card in half a little because that is true... Well I hope I don't get struck with any bad luck for the next... oh, 3 months or so. (And now that I've hoped for it not to happen, it probably will more than ever. Don't you just hate karma?)

Sci-Fi-Delity is a really pretty light red with a hint of gold. It has minimal gold shimmer in it. Not too sparkly for the glitter shy.

Pleasureseeker reminds me a lot of Soft Pout from the Stylistics collection. (Well from memory anyway). It's darker than Fleshpot from Heatherette. It's beige/peachy with a tinnnnny hint of orange.

Soft & Slow is more of a dark plum color. I thought it was more reddish at the store, but it's really not and it doesn't have a lot of sparkle.

Pink Grapefruit is one of my favorites. The MAC description says it's an orange color, but I don't really think it is. It looks like a coral color with gold sparkles. It definitely looks more red in the container though.

Microfine Lip Refinisher--I LOVE, I LOVE! However, I didn't discover this until I got home though. It was alright in the store... For some reason, the tester at the store had all the black stuff from the exfoliator side coming off and it wasn't rubbing into my skin so it looked like I had dirty black specks on...BUT the one I bought doesn't do that at all. It works great too as an exfoliator. My lips always peel a little after my lipstick dries so I put this baby on and it pretty much got rid of the dry skin! Also at the store, I had NO IDEA how to work this, but there's instructions in the box. It says to put it on flat (with both sides on your lips). Then rub your lips with your finger to remove the dead skin and wash with water or damp cloth. Then apply lipstick.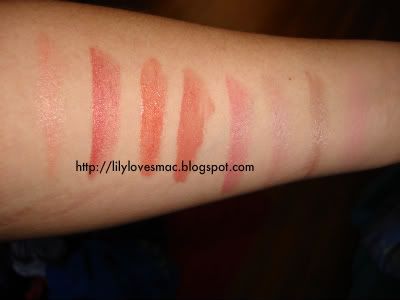 L to R: Pleasureseeker, Sci-Fi-Delity, Pink Grapefruit, Soft & Slow, Sweetie, Pervette, Frou, Pinch o Peach blush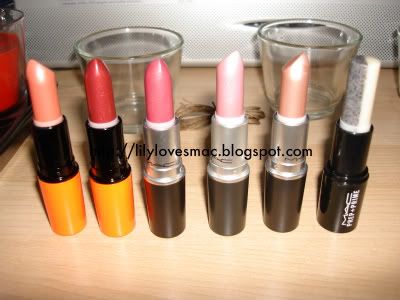 L to R: Pleasureseeker, Sci-Fi-Delity, Sweetie, Pervette, Frou, Microfine Lip Refinisher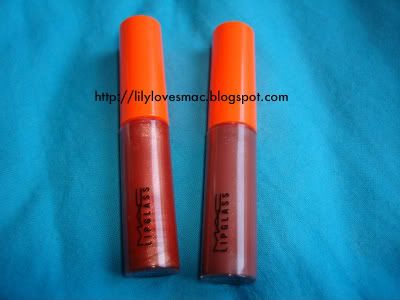 L to R: Pink Grapefruit & Soft & Slow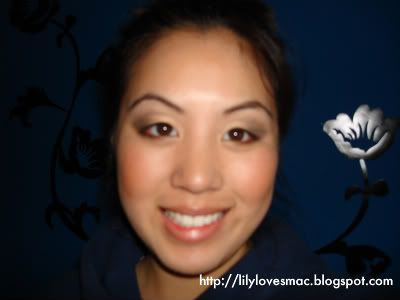 See my super orangey cheeks? I wiped the lipstick off because I ate right before I took this picture... Heh. The eyeshadows on my eyes are Evening Aura & Magnetic Fields. The camera washed out the colors a bit.
My grandmother saw the swatches on my hand and thought I had a bruise because Sci-Fi-Delity is so dark on my skintone! Haha