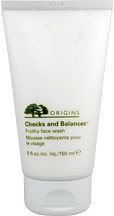 Product: Origins Checks and Balances
Packaging: 5 out of 5
Overall: 3.5 out of 5
Price: $17.50
Would you buy this again? No

PROS: Cleanses well. You can definitely tell that it's not a weak or mild cleanser. It gets all the dirt off of your face.

CONS: It dried my face out with continuous use. It was fine the first few times I used it (it didn't leave my face feeling dry or tight and I thought that I had finally found my HG cleanser), but it did after a while... Also, I noticed that since it's a pretty thick face wash, it was a little hard to get it off of my face. I usually had to double check to see if I washed everything off since it would stick a lot mainly around my nose and eyebrows.

It is best for combination skin so if you have dry skin like I do, it may not be the best cleanser for you.