Whoo! I got promoted at work today!!! Finally all of my hard work has paid off! And I get to start doing my next research project this summer! I'm not sure what I want to do yet, but my boss has already hinted at what he wants me to do. Anyhow, I'm super excited! We've also just hired a bunch of new interns so I can't wait to get to know them! There's one guy who looks JUST like Clark Kent (you know, Superman!) from Smallville. Anyway, come check out where I work! It's an awesome state of the art green facility and we're going to have an accesible living green roof! We've been remodeling for the past four years and it's finally going to open on September 27th! Click HERE. We're an aquarium, planetarium, and a natural history museum and a research institute.

Anywho, here are some MAC lippies that I wanted to share. Snob is definitely a very cool toned pink and I can't quite pull it off alone. It's super super bright and I usually have to put some gloss over it. It also goes on very matte even though it's a satin... It's not very smooth and creamy, so... don't put this over dry lips lol.

Enjoy! And don't mind my dry lips in the swatches!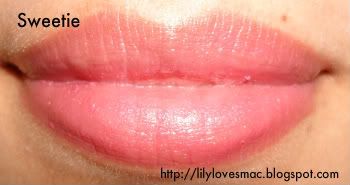 Alright, time for dinner. The boyfriend feeds me so well! He can actually cook better than I can... LOL, embarassing!