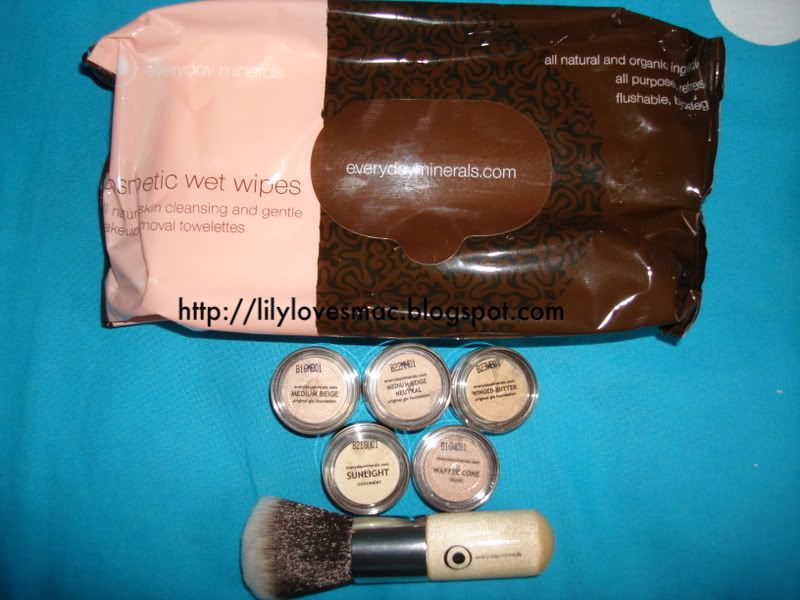 I actually got this a week (I think?) ago, but I'm just posting about it now. I looove the wipes! They're awesome! Thank you Trinh for recommending these! I'll do a review on them soon! But I LOVE them!

The foundation shades are different, but they all seem to go on the same. I don't know if it's because they go on sheer or because the colors are just similar... I got foundation shades from different undertone groups though... They're all in the "Original Glo" finish and it has pretty good coverage. It doesn't completely cover up my red cheeks, but does hide them so you can't really see how red they naturally are. I've also heard of people breaking out when they switch from their mineral foundation (from a diff company) to Everyday Minerals, but this hasn't broken me out in at all in any way.

This is what I got in their free sample kit:
Medium beige foundation (Warm undertone)
Winged butter foundation (Golden undertone)
Medium beige neutral foundation (Beige undertone)
Waffle cone blush
Sunlight concealer

The waffle cone blush didn't show up on me at all... Lol. Maybe I'm just not using enough of this stuff and the foundation?? And the sunlight concealer does seem to brighten up the area underneath my eyes. it doesn't get rid of circles though which is what this concealer is for...

When I was ordering, I wanted the baby kabuki brush, but I couldn't find it anywhere on the website. The only kabuki brush they had was the long handled kabuki and so I got that... But NOW they have the baby kabuki... which really sucks! The long handled kabuki doesn't even have a long handle... The wooden handle + the ferrule is like 2 inches or 2 and a half inches at most... So don't order it and expect a long handled brush like I did.

I've been so busy lately. I worked pretty much everyday this week 9-5 and I'm so exhausted when I get home! We got a whole bunch of new interns and we've been putting them through hardcore training for this past week. I feel a little bad for them though since it's so much to ABSORB in a week. Plus, it also feels like we're going through training ourselves. Ugh. Lately, I've been having some issues with the boyfriend too. I hate to put my problems on blast, but I can't seem to bring myself to verbally and physically hear myself telling anyone everything that's going on cuz I guess I'm in a state of denial. I also hate when I tell people one thing, but things change up so fast the next day like if you break up with someone and then you get back together or something and people are shocked that things happened so fast. I don't know. I'm just weird. Anywho, we're going through some tough times. I don't know if I want us to get through it, but at the same time, I don't want to lose everything that I've invested. We had a really good talk today though about things. More than anything, I really valued that he told me the truth about how he felt and everything that's been bothering him lately even if it hurt me because I've never really understood his side of view when we used to have fights cuz he never told me EVERYTHING about how he felt cuz he didn't want to hurt me. Knowing the truth now though, it makes sooooooo much more sense, and yes it does hurt to hear some of those things, but at least I'm not mad like before because I can understand where he's coming from and how I'd feel if I were in his shoes. I know that everything happens for a reason and I'm in no rush to see where we fall in between everything else. I know things will work themselves out eventually and for the best.