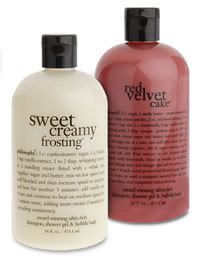 Product: Philosophy 3 in 1 Shower Gel
Packaging: 4 out of 5
Overall: 4 out of 5
Price: $16
Would you buy this again? Maybe, leaning towards no.

PROS: Most of them SMELL AMAZING! It is definitely a waker-upper in the morning. The bottles look small, but they actually last a very long time. Mine lasted for at least a few months-- used as a shower gel and occasional shampoo/conditioner.

CONS: $16 for a bottle!! Also, the fragrance does not linger meaning once you get out of the shower, the smell is gone. (Although I do find that some last a little longer than others like Cinnamon Buns and Eggnog). The packaging is super cute and it comes with a recipe on the bottle. The cap however is a disaster. This is horrible for traveling. I had to tape my cap down so it wouldn't spill and two of my bottles' caps have broken off. I'd also only recommend this for use as a shower gel. I tried desperately to use it as a shampoo/conditioner (like Philosophy advertises), but it dried out my hair sooooo much that I just had to stop using it on my hair. I have about 12 bottles of these and for a while I was crazy obsessed with them, but now that I think about it, they are way too pricey to be used just as shower gels. Also, if you use them for bubble baths, the product will pretty much disappear right before your very eyes. You have to dump in about 1/8 of the bottle for a bubble bath (and I couldn't even smell the fragrance after that).

For reference, I have Lemon Custard, Cafe Au Lait, Pumpkin Pie, Carrot Cake, Melon Daiquiri, Berries and Cream, Chocolate Coconut Macaroons, Vanilla Cupcake, Eggnog, Cinnamon Buns, and Chocolate Chip Cookies if you have any questions on how they smell.