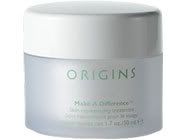 Product: Origins Make A Difference Skin Rejuvenating Cream
Packaging: 4 out of 5
Overall: 3.5 out of 5
Price: $32.50
Would you buy this again? No

PROS: Great moisturizer especially for people with sensitive skin. It goes on very light so it doesn't feel like you're putting something really thick on your face. I didn't experience any breakouts with this moisturizer. The container is also pretty big so this will last a long time.

CONS: I have really dry skin so after using this product for long term, I noticed that it wasn't as moisturizing anymore. I'd put it on and it'd moisturize my face for an hour or so, but then my dry skin would show up again. The same thing would happen if I put on some more moisturizer within a few hours.

This worked great for me when I first got it, but with gradual time and use, it just didn't hold up anymore.


P.S. Wish me luck on my physics final tomorrow!