First off, excuse my mismatched eyes. LOL. I was playing with my Ben Nye palette and did some looks. Let me say THAT when I ordered the palette, I knew the colors would be super pigmented (and they are) and I was a little afraid that I wouldn't be able to wear them out everday, but even though they are super bright, they are so wear-worthy! They actually make my eyes pop because the colors are so bright. I've never been able to pull this off with colors that don't usually suit me like blues and greens with MAC eye shadows.

Bottom line, I LOVE THEM! I left my camera at the boyfriend's house so I used Photobooth on my Macbook to take these pictures. It does the colors NO JUSTICE!!

On to the pictures!

Inner corner: Chartreuse
Mid lid: Jade
Outer lid: Cosmic Blue
Crease: Amethyst

(My left, your right eye)
Inner corner: Aztec Gold
Mid lid: Tangerine
Outer lid: Azalea
Crease: Cosmic Blue blended into outer lid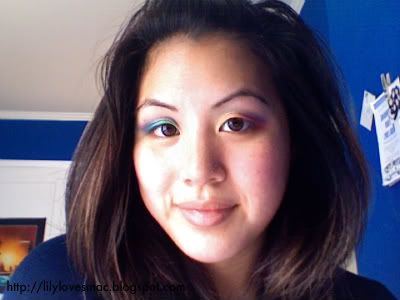 Again, the webcam does the colors in this photo no justice.
By the way, I used a MAC shadestick as a base, but these would be just as pigmented without a base (although I don't think they'd stay put for very long without a base).