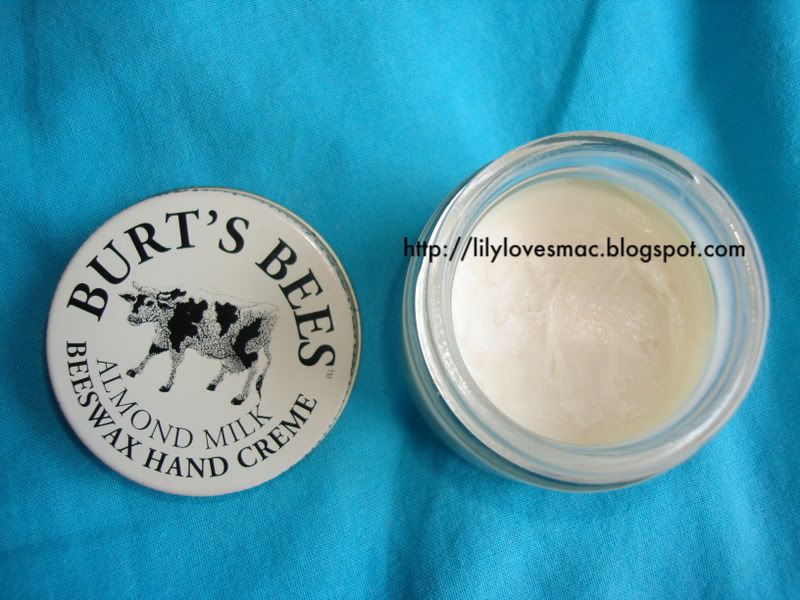 Product: Burt's Bees Almond Milk Beeswax Hand Creme
Packaging: 3.5 out of 5
Overall: 4 out of 5
Price: $8
Would You Buy This Again? Yes

PROS: Moisturizes even the driest cracking/peeling hands! I used to work at a place where I'd get my hands wet a lot and it really really dried them out to the point where the skin around my knuckles was so dry that it hurt :( This hand creme isn't like other lotions. It soaks INTO your hands and that's what makes it so moisturizing. You know how when you put on other lotions and you go to wash your hands maybe 15 or 30 minutes later and you can feel all the lotion soapy up and running off your hands? Well this doesn't do that. Even after 5 minutes of applying, it's completely soaked into your skin and doesn't run off when you're washing your hands.

CONS: It smells SO GOOD like almonds in the container, but once you put it on, it smells like plastic!! It's also extremely greasy and oily so you have to wait for it to soak in before you touch anything lol. I also don't like that it's in a container like this because I hate dipping my fingers in and getting some caught in my nails!

Overall, I really love this hand creme. It's especially great if you need some intensive creme, but it's also good if you need something to pick your skin up if it's a bit dry from time to time.