OOOOOK. As much as I want the Coastal Scents Ultra Shimmer Palette now that it's IN STOCK again, I'm not going to get it! Grr! Lol. I'm broke as hell from paying for school, textbooks, gas, and food. Not to mention I've only gone to work two times in the past two weeks because I have the first two weeks of work off for school. ANYWHO, I'm going to get the CS palette eventually... But I've made a promise to myself to use every single one of my eye shadows & pigments FIRST before I go out and buy some more since some of them have been so greatly neglected :( Especially my pigments! They're just more inconvenient then pressed eye shadows, but I'm going to use them at least once from now on before I get the palette! Lol. It's ridiculous how much stuff I have that doesn't get used and they're too precious to sell! Lol. I have my MAC palettes, Ben Nye Palette, Two Faced Palette, NYX Trios, Smashbox e/s, Simply Naturals, The She Space, & MAC pigments to get through. Wish me luck!! I think I'm going to make a list of what I have and check it off the day I use them. (Haha, I'm a bit OCD, but I really want to make sure that I make use of what I have before I buy more). At least this means more FOTDs! Maybe even one everyday if my camera taking skills get better...

Don't mind the full face. I didn't have any makeup on except for the eyes.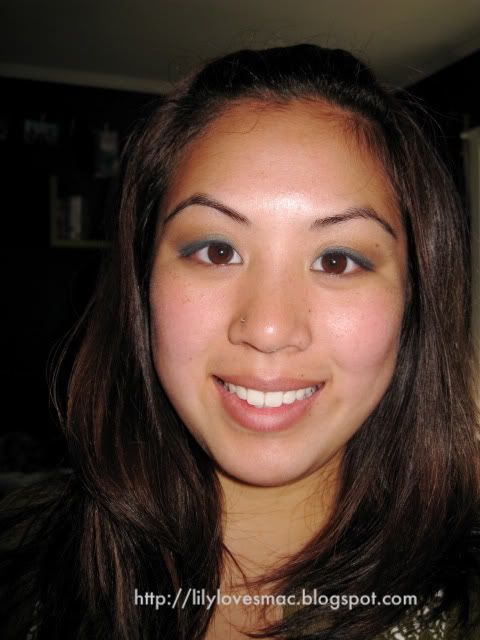 Products:
MAC Prussian e/s
MAC Era e/s
MAC Romping e/s
MAC Shroom e/s

Some days, I have monolids, and what I've noticed when I'm using darker colors is that I only need to put a thin layer of it on. With my other colors, I usually put them all over the lid, but with darker colors, it makes my eyes look smaller and more heavy (like I have panda eyes) so I try not to go too heavy with them. I just apply enough so they give my eyes a pop, but not too much to the point where it ways them down.